Strong Heart Blueberry Muffins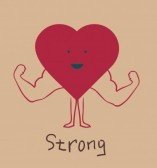 My Strong Heart Blueberry Muffins were so delicious my son asked me for three.
Preheat your oven to 350 degrees.
Bertolli Extra Virgin Olive Oil ½ cup
Whole Wheat Flour 3 cups
Yeast Flakes 2 tablespoons
Quinoa Seed 1 ½ cups
Sugar 3 tablespoons for the muffin mix/4 tsp for the topping
Cinnamon 2 tablespoons for the muffin mix/ 1 tablespoon for the topping
Organic Vanilla Extract (do not give to infants or young children) 1 tablespoon
Whole Wheat Bread Crumbs 1 cup
Eggs 4 Large
Milk 2 cups
Sour Cream 1 cup
Blueberries 1 1/2 cups
Muffin Baking Paper/Tin Foil Large Size 12 cupcake containers
1. In a large bowl with a small pouring side put the Oil.
2. Add the Whole Wheat Flour and Yeast Flakes to the Oil.
3. Add the Quinoa Seed in the Flour mixture.
4. Add the 3 tablespoons of Sugar in the Flour mixture.
5. Add the 2 tablespoons of Cinnamon in the Flour mixture.
6. Add the Vanilla to the Flour mixture.
7. Add the Whole Wheat Bread Crumbs to the Flour mixture.
8. Beat in a small bowl your Eggs and add to the Flour mixture.
9. Add the Milk to the Flour mixture.
10. Add the Sour Cream to the Flour mixture.
11. Add the Blueberries and mix well.
12.  Gently pour the batter into the cupcake containers.
13. Take a 12 ounce cup and put the remaining sugar and cinnamon and mix well with a spoon. Then, sprinkle on the top of each muffin. 
14. Please, set your timer for 20 minutes and check holding a pot holder if not done (the muffin should be golden brown-stick a tooth pick in it and it should come out dry) put back for 5-10 minutes, please, reset your timer. 
Please, all enjoy! Always consult your doctor first when changing your diet.
The Health Benefits of Quinoa:
1. Quinoa is a Super Food plant that is like Rice and is a seed. 
2. Also Quinoa is gluten free.
3. Quinoa lowers our cholesterol.
4. In addition, Quinoa is a low fat grain.
5. Quinoa adds fiber to our diet.
6. Also Quinoa has a high protein content.
7. Quinoa is low in calorie.
8. In addition, Quinoa can help us lose weight.
9. Quinoa is a great source of iron.
10. Also, Quinoa is an excellent source of  magnesium.
My sources are my own observation and own recipe and 
Please, all try my Strong Heart Blueberry Muffins and also US residents shop at our Heart Strong Smart Shop or Cancer Free: we have the best USDA approved products that were given the highest ratings by our worlds leading scientists at Good Guide.
Best Regards,
Barbara Iris Alsieux, the Founder and the Owner of Parental World Knowledge
Enjoy what you just read? Why not get updates from Parental World Knowledge... just enter your email below!
comments powered by