Removal of Ground Bees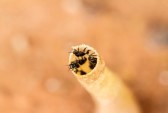 The Removal of Ground Bees was really stumping me. We just had several at first and we tried spraying a Bee Killer for four days and to no avail; the bees dug underground and it was just one hole at first for four days but, then on the fifth day it covered one half my lawn or one half an acre. So, I immediately called my town of West Orange, NJ, USA and requested that our town do a live bee removal and one of their staff members said no assistance by the town for bee removal and said that I should call an exterminator; I did not want to kill so many bees because they pollinate our flowers and plants. So, I looked up on Google for Live Bee Removal; I immediately found Bees.com and I called immediately their Bee Emergency phone number and their owner got right back to me; the owner informed me and confirmed that these are Ground bees-he said that he only removes Honey Bees for free. Also the owner informed me that I should run my sprinkler for a few days and the bees should leave on their own because they hate a lot of water. I can not believe that is all we had to do for the Removal of Ground Bees. 
But, of course our water outlet is broken and it would cost about a few hundred to fix and we do not have a hose long enough to reach or even two hoses coupled to reach and our sprinkler broke. So, I called Home Depot and it would cost about $170.00 for all and a reel to hold it would be $50.00 and I would need two -so $100.00 more-so, the total would be $270.00 total. So, I looked on Google to see another solution for the Removal of Ground Bees because I just do not have that kind of money now because I am helping mainly supporting my son, David, who was a recent Honor Roll Graduate at NJIT,the leading Architect College in our nation (my son has a Junior Architect Full Time Position); it said that you can put soap with water and pour it in the holes and it will kill the bees. I did not want to do this alternative but, we have no choice because there are so many bees and they could sting according to the Blog Post- forumsgardenweb.com
In closing, please always try and preserve life and it is a good lesson to teach our children. I feel horrible that I can not in this a fore mentioned situation but, I am doing the best that I can as a single mom for my son. I wish you all the very best!
Thanking-you,
Barbara Iris Alsieux, the Author, the Founder and the Owner!
Enjoy what you just read? Why not get updates from Parental World Knowledge... just enter your email below!
comments powered by