Organic Baby Food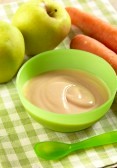 I breast fed my infant son and when he was about one, I was told by his Pediatrician to introduce my son to Formula milk and baby food. I was a little worried to give my infant son baby food; since, some baby food got recalled at that time because it was not prepared  right. So, I would smell, look closely and I would first taste the baby food and formula before giving it to my son. Also I made my own food at times but, it was too much effort since I also ran as the President a large talent corporation that operated all around the world. I did not know about Organic Baby Food  at that time; now I do and I am selling it at our website store Smart Shop and offering it at 30% off until April 12th 2013  and no shipping fee in the United States also until April 12th 2013(just use our code: Wisdomsq.     
                                                                                                                                                                                 Now, you can have a healthier baby and your peace of mind by giving your baby Organic Baby Food. Pediatrician Elizabeth Knapp, MD, Austin Regional Clinic Far West, said, "Even small amounts of pesticide exposure are dangerous for babies because of their smaller body mass their brains are developing rapidly and are especially sensitive to neurotoxins at this age". An infant is more susceptible to harm by the pesticides and hormones in baby food till age 2. Research supports Organic Baby Food. Also the USDA will put on the label if the Organic Baby Food is certified. Also now you don't have to taste the baby food as I had to when my son was an infant but, it tastes so good you will want to and your baby will like it better and eat better. Please, check with your Pediatrician when you need to introduce Organic Baby Food. 
Also we have other Organic Food for your child and you also at our website store Smart Shop and we are also offering at 30% off and free shipping until April 12th, 2013. In addition, we have beautiful brightly color Organic Yoga Mats. 
In closing, I hope that all families eat Organic Food and be healthier and by doing so, it keeps our environment healthier for us.
My sources are my own experience, Mayo Clinic, Dr Jay L Hoecker, MD, Good Health.
Enjoy what you just read? Why not get updates from Parental World Knowledge... just enter your email below!
comments powered by