Energy Scan Prayer Healer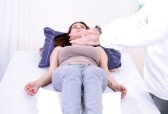 Energy Scan Prayer Healer is conducted by an Energy Healer and the healer pinpoints the physical health or mind problem;then, a Miraculous Prayer is done together to G-o-d and G-o-d heals 100%. Barbara Iris Alsieux, Miraculous Heal, specializes with couple relationships. Barbara Alsieux is offering a special price only $22.00 per person until February 14, 2016 9 AM-5 PM Eastern Standard time. As long as you pray with Barbara Alsieux to G-o-d and you have a strong belief you will be healed 100% by G-o-d;you also will gain more focus and gain more energy. We all want to have more focus and energy for our family, friends and business and or charity work; so why wait please call 9737361637 or e-mailing balsieux@comcast.net immediately to schedule your appointment. Make 2016 your best year!
The great results of a clearer mind and healthier body is life changing. You all deserve to be the best you can be in life. Our family, friends and work and charity work can drain us at times; so why suffer. Renew yourself and be so much more productive. Our relationships can also suffer horribly from our past;make a fresh new start for your partner and you. You will also greatly improve your sex life at any age by clearing your Spirituality Chakra; so again call immediately for your appointment. There is such difficulty today to find the time to do all we want to in one day caring for our family, friends and even our pets;so do this and increase your energy to make more time to do the things we want on a daily basis. 
Barbara Alsieux did an Energy Scan with a renown healer, Daniel John Hanneman, Academy for Invincible Healers and she personally knows that it definitely works; she suffered recently a great tragic loss with her father before she received prayers and a personal talk from Daniel Hanneman. Hanneman cleared her blockage with prayer and Barbara Alsieux learned immediately how to help others with Energy Scan Prayer Healer. Daniel Hanneman is now a friend on facebook with Barbara Alsieux. Therese Skelly, a well known Business Consultant and Trainer referred Barbara Alsieux to Daniel Hanneman; she runs great Retreats. In closing, contact Barbara Alsieux by calling 9737361637 or e-mailing balsieux@comcast.net Thanking-you and we are looking forward in hearing from you soon and helping you have the most wonderful year in your life! 
Parental World Knowledge Staff wishing all a great and healthy New Year 2016!
Enjoy what you just read? Why not get updates from Parental World Knowledge... just enter your email below!
comments powered by