Delicious Stuffed Mushrooms With Imitation Crabmeat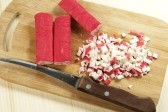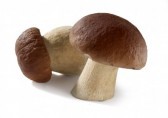 Louis Kemp Imitation Crabmeat 1 Package 3 lb
Ritz Crackers 1/2 Box
Seafood Seasoning 1 Teaspoon
Eggs 3 large
Butter 1/2 cup
Pam Spray
Whole White Button Mushrooms 5 small packages

Soak the Crabmeat in a a very large bowl of Water and Drain.Then,dice on a cutting board.

Crumble well all the crackers. Add in the bowl of Crabmeat and mix well.

Add the Seasoning, Eggs well beatened (first on a separate small bowl) and the butter softened(first in a small bowl).

Wash the Mushrooms very well.Cut off the Stems.

Spray 2 Large cooking Sheets and put all the mushrooms on it with the opening part up and fill each one with a large scoop of the Crab Mixture and press down with a large spoon.

It should be bake at 350 degree for about 15-20 minutes use your timer, please;make sure they are light golden brown.
It serves 6 people. I hope that all enjoy!
The Six Health Benefits of Mushrooms
1. All Mushrooms (Portobello, Oyster,Crimini, Enoki, Shiitake, or White Button) are loaded with vital nutrients. Selenium, which is good for your bladder is contained in many Mushrooms. Mushrooms have a significant value of Selenium for all was proven by analysis of seven studies the Cancer Epidemology Biomarkers and prevention. It had a very significant effect on women since a woman's bladder is different than a man's bladder. Crimini raw in a 3 1/2 ounce portion provides 47% of your daily needs and cooked Shiitakes 45% and Raw White Button 17%.
                                                                                          2.Also Mushrooms produce Vitamin D when exposed to sunlight;it is just like us when we are exposed to sunlight. Mushrooms are the only vegetable or fruit source of the very essential Vitamin D.Just before going to market, Mushrooms are exposed to high levels of ultraviolet B and it causes the plant to have a higher level of Vitamin D. The Portebello Mushrooms are fortified with Vitamin D and it provides 400IU of Vitamin D in a three ounce serving. All adults under age 50 are recommended by Nutritionists to receive 400 IU to 1,000 IU daily. 
                                                                                            3. A good source of iron is contained in Oyster Mushrooms and they are low in calories;there are only 22 calories in 6 medium white Mushrooms.
4.White Button Mushrooms may boost your immune function; based on a study on mice by the American Society for Nutrition. it may increase the production of antiviral and other proteins that are released by cells which repair and protect our body 's tissues. The immune system cells called Dendritic Cells(from bone marrow). It could protect our immunity against invading microbes.
5. Crimini and Portobell mushrooms have the same level of Antioxidants (substances they fight free radicals which is caused by the oxidation in our body)as Red Peppers. These findings were based on a ORAC study, which is the oxygen radical absorbance capacity,by Penn State University.
6. Mushrooms boost also your metabolism because they contain high levels of B2 Vitamins (Riboflavin) and Vitamin B3 (Niacin);with a 3 1/2 ounce serving, White Button Mushrooms have 36% and 30%, Oyster Mushrooms 32% and 39% and Crimini 44% and 30%. B Vitamins turns food (carbohydrates) into fuel (glucose) and our body burns to produce our energy.
Source By "Best Health Magazine" March/April 2011
I recommend Lois Kemp's Imitation Crabmeat because there are only 90 calories in a 2/3 cup and there are 0g Calories from Fat (saturated fat:0g), Carbs:14g, Fiber 1g, Sugar 4g, Protein:9g, Sodium 610mg 25%. Be careful in selecting other imitation crabmeats some could be higher in salt and sugar;read these other packages to see the content.
Enjoy what you just read? Why not get updates from Parental World Knowledge... just enter your email below!
comments powered by