Delicious Rice Pudding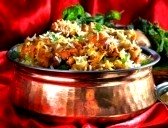 Minute Brown Rice 3 Cups
Milk 8 Cups
Cinnamon 1 teaspoon
Nutmeg 1 teaspoon
Brown Sugar 1 Cup
Natural Liquid Vanilla 1 Teaspoon
Dark Raisins 1/2 cup


Cook the Rice according to the Package in a Very Large Pot. Rinse with cold water and drain. 
In the Large Pot, put back the Rice and add the Milk, the Cinnamon, Nutmeg, Brown Sugar,Vanilla and cook on medium heat and keep stirring on and off(put a lid on the pot while not stirring) until the milk boils and then fully thickens. About 20 minutes-30 minutes depending on your stovetop.
Add the Raisins and stir for 1 more minute.
It can serve 6 people. Let the rice pudding cool off in soup bowls for 15 minutes-20 minutes and you can put a large scoop of frozen low fat cool whip on top and serve warm.
All enjoy!
The health benefits of Brown Rice is as follows:
1.All having a diet of brown rice, which is a whole grain, will significantly lowering us from developing cardiovascular disease and heart disease and stroke;a study was conducted at Wake Forest University School of Medicine. An average serving 2.5 of whole grains lowers significantly our risk of cardiovascular disease by 21%. These findings are based on 285,000 people; the studies were conducted 1966 through April 2006. There was seven studies conducted.
2. What constitutes a grain from being whole is the whole grain seed is retained, which consists of bran, endosperm and the germ. The germ and the bran consists of vitamins, minerals, fiber, antioxidants and healthy fats. Other example of whole grains are also including wild rice, popcorn, oatmeal, barley, wheat berries and whole what flour.
3. I addition, whole grains also significantly protect us against diabetes and other chronic conditions.
4. Whole grains, such as Brown Rice, also reduces our risk of Asthma and reduced Inflammatory Disease.
5. Also whole grains, such as Brown Rice, lowers our risk Colorectal Cancer.
6. In addition, Brown Rice and other whole grains lessens our chance of Gum Disease and Tooth Loss.
7. Also Brown Rice and other whole grains provides us with healthier Cartoid Arteries.
8. Also the more we eat of Brown Rice and other whole grains we have less of a chance of becoming Obese, developing High Blood Pressure and High Cholesterol. 
Please, look for 100% whole grain food labels;nutritionists urge us.
My source was the Science Daily and the Whole Grains Council based on compiled findings of many studies 2005-2010.
Enjoy what you just read? Why not get updates from Parental World Knowledge... just enter your email below!
comments powered by