Art Books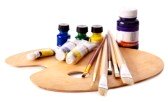 I selected this collection of Art books based on the Artist's professionalism (some are famous Artists), the Artists are all inspiring, and the Artists provide easy instruction for all ages. Please, all read more information by clicking the links below. I hope that you will enjoy reading and doing Art work after reading all these wonderful books. Thanking-You, Barbara Iris Alsieux, Fine Artist, Prayer Healer, Author, Poet, the Founder and the Owner of Parental World Knowledge! Below are my top picks for Art books:
"I purchased this book a month ago looking for inspiration to fuel my painting need and that is exactly what I found.

I wanted to dive into the book before I gave any feedback on it, so right now I've finished over 20 projects and I have to admit, without the recommendations from this book I wouldn't have gotten as far as I have in my portfolio for this upcoming school year. Even just getting started on this book I can see my art has take on a new, modern, poppy form while still holding onto the fundamentals that I've learned over the years.

"200 Projects..." wasn't intended to show you in detail exactly how to accomplish a project with each brush stroke laid out for you. It gives you a colorful yet challenging idea with practical tips and techniques and lets you just tackle the project in your own way to help you develop your own style. This is very helpful in the modern art world since fresh new perspectives are always needed.

The book covers a incredible range of mediums to use from conventional watercolor, acrylic and oil paints to fabrics, mosaic materials, and even touches on photography; letting pallet blossom with new flavors to enjoy.

If your and aspiring artist working on building a portfolio, looking for new inspirations, experimenting with different mediums and techniques, or just want to take your work to the next level I would suggest this getting this book right now! I wish i had this book years ago."
My source for my Blog Post is my own Art appreciation and an Amazon customer's review of the book "200 Projects to Strengthen Your Art Skills;For Aspiring Art Students (Aspire Series). Barbara Iris Alsieux
Enjoy what you just read? Why not get updates from Parental World Knowledge... just enter your email below!
comments powered by